Birkenstock Boston Mocha Suede with Soft Footbed
USA's First Choice for Birkenstock!
Item SKU#: 66046
Regular Price: $139.95
Today's Low Price: $69.98
You Save $69.97
Classic Birkenstock cork/latex footbed
Can be resoled/repaired
Quality leather is buffed for a soft and velvety finish.
Discover freedom for your soles in the Birkenstock Boston clog in Mocha Suede with Soft Footbed. Cater to your personal fitting needs with an adjustable buckle strap across the saddle. Unique raised toe-bar promotes a healthy and natural stride. The Birkenstock Boston clog has a contoured cork footbed that gently yields to the individual shape of your foot, while the EVA sole cushions every step you take.
Customers Who Bought This Item Also Bought...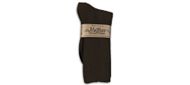 Cotton Crew Socks in Chocolate by Maggie's Organics
Today's Low Price $4.98